The Strange Case of Hyde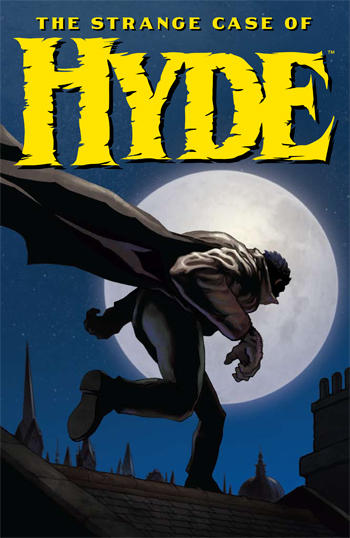 Dark Horse Entertainment, Skydance Productions, and The Mark Gordon Company are developing a feature film based on Cole Haddon's upcoming graphic novel "The Strange Case of Hyde," to be published by Dark Horse Comics in 2011.
The Strange Case of Hyde is a Victorian era action adventure that pits this classic fictional character against one of history's most notorious villains.
Mike Richardson and Keith Goldberg will produce for Dark Horse, Mark Gordon will produce for The Mark Gordon Company, and David Ellison will produce for Skydance. Haddon will adapt his novel for the screen.
"What attracted us to the project is the idea of adapting these classic literary characters in a way that modern audiences would want to see," said Ellison. "We're excited about partnering with Dark Horse and Mark Gordon to bring Cole Haddon's upcoming graphic novel to the screen."
"Mr. Hyde is one of my favorite literary villains, but he hasn't been given his due on the big screen for the better part of a century. I'm excited to be playing a part in restoring him to his proper place in the pantheon of movie monsters -- at the top of the food chain," said Haddon.
"This is an amazing project that turns the Hyde legend on its head in a showdown with one of the most notorious villains in history. We're excited to team-up with Cole, Mark, and our friends at Skydance," added Mike Richardson, President of Dark Horse.
Skydance Productions is in the first of a four-year co-production/co-financing deal at Paramount Pictures. The company is in pre-production on "Mission: Impossible 4" and post-production on "True Grit." Skydance is also producing a recently announced "Untitled Charlize Theron Project" based on a pitch by David Caspe.
Dark Horse Entertainment is represented by WME and Gotham Group, with legal representation by attorney Keith Fleer.
Cole Haddon's credits include "Thieves of Baghdad" for Warner Bros. Pictures. He is represented by ICM and Anonymous Content.
Hyde image by Bud Cook
Posted: July 28, 2010